Welcome to PinoyProfessionals.com!
Filipino Professionals around the world meet here. Talk, trade, and offer professional services. Feel free to post in our Forum, Real Estate, Autos, Jobs, Travel, Classifieds, and Directory.
How to Post?
From the user menu, just click "Post". You can also find the button "Post" below the category header.
How to Edit My Post?
Go to your post and click on the action menu as shown below:
Edit - to edit your post.
Expose - to update your post date.
Un-publish - to make your post "Inactive".
Expire - to make your post "Expired".
Delete - to delete your post.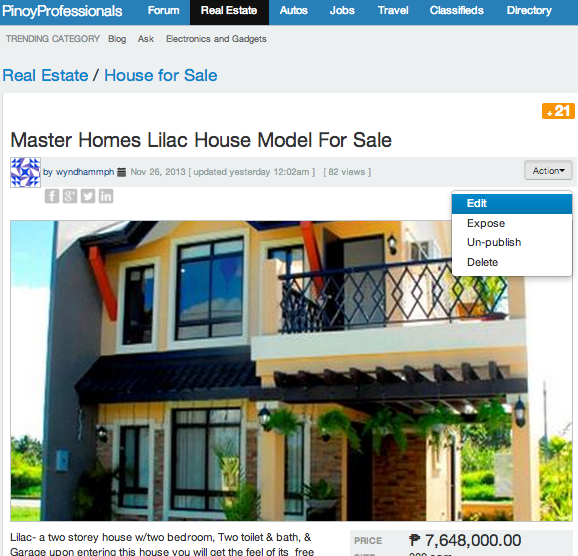 Viewing Posts.
On the frontpage, you have an option to view the Most Popular or Most Commented posts "Today", "This Week", "This Month", or "This Year". If you click a specific Sections, lists only containts posts within that Sesctions. If you click a section Category, lists contains within that Category.
Posts with most points are displayed on the frontpage.
Posts with most points are displayed with priority on the frontpage. Points are displayed on the right side of the post. For example, posts with most points for the current day is displayed on "Popular / Today". Points are calculated based on the number of likes and the reputation of the user who liked it.
To get listed on the frontpage, share your posts on Facebook, Twitter, LinkedIn, Google+, or other social media websites.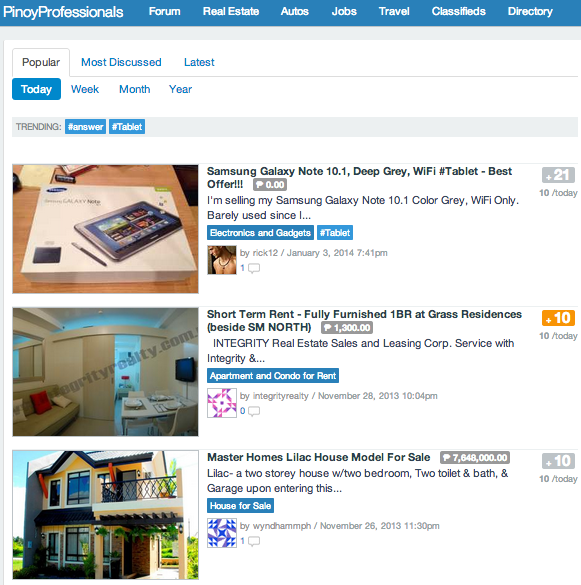 Adding Hashtags.
Optionally, you can put hashtags in your post title. It's similar to Twitter hashtags. Hashtags is a way to label your post and put emphasis on it. For example:
#SMJazz condo ready for occupation
How To Get Your Post To Frontpage?
By default, the posts with most votes are displayed on the frontpage, even if the post is old. To those familiar with Reddit and the old version of Digg, the site works the same way.
The post points are calculated by the number of members who voted your post. Above, you will see the total points. Below, you will see the points for today. Same goes with Week, Month, and Year view.


By default, 10 posts with most points "today" are displayed on the frontpage. If your post is "exposed", it is treated as a new post. Exposed posts also go to the frontpage if there are not enough posts with points.


So how to get more members vote your post?
Put complete post details - If you don't have time to put enough information on your posts, potential clients will ignore your post and look at other posts instead. Remember, there are thousands of similar posts to your post. With our thousands of professional members, majority are OFW's who are looking for complete information about an ad.
Share your post on Facebook, Twitter, Google+ and other Social Media - This will help your post get more exposure.
Ask your happy clients to vote your post here - In this case, other potential clients will feel more comfortable to deal with you.
Expose your post - Exposed posts are treated as new posts.
Social Login.
Login or Register quickly using your existing account on Facebook, Google, or Yahoo. Our system will retrieve your email and register you automatically. You will be asked to pick a username to be stored in our system. No need for a password! To login, just click the same button you clicked.




It's safe, we only retrieve your email.
It's fast, you don't need to remember a password.
It's the same thing as registering manually, except it's faster.