JROOZ IELTS / IELTS UKVI OPEN HOUSE – August 12, 2017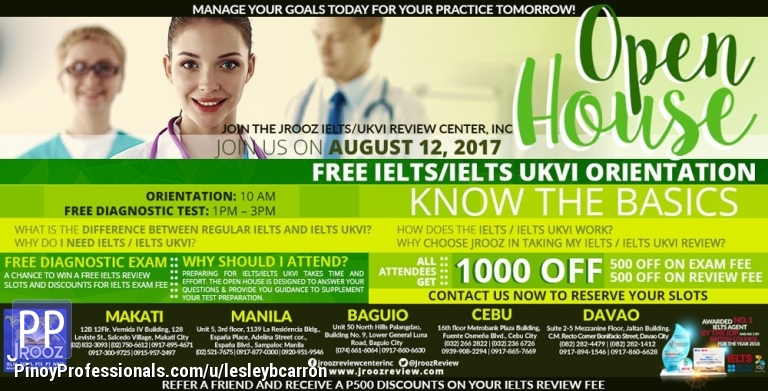 Detail
Phone:
0917-894-1546 / 0917-860-6628
Location:
Suite 2 Jaltan Bldg. C.M. Recto Corner Bonifacio Street
Davao City, Davao del Sur, Philippines 8000
Description
Free IELTS / IELTS UKVI Orientation Know the basics
– What is the difference between Regular IELTS and IELTS UKVI?
– Why do I need IELTS and IELTS UKVI?
– How does IELTS and IELTS UKVI work?
– Why choose JROOZ in taking my IELTS / IELTS UKVI review?
All attendees get:
– PHP 1,000 discount (500 off on exam fee, 500 off review fee) and receive a free test prep manual from IDP exclusive for JROOZ Review students
– Free Diagnostic Exam
– A Chance to win free review
– Slots and discount for IELTS exam fee
Event URL: http://www.jroozreview.com/jrooz-ielts-ielts-ukvi-open-house-august-12-2017/
To know more information about the JRooz IELTS review programs, Please Visit: http://jroozreview.com/ielts-review-center.
For more information, please contact us through:
Makati: (02)832-3093 / (02)750-6612 / 0917-895-4671 / 0917-300-9725 / 0915-957-2497
Manila: (02) 521 7675 / 0920-9519546 / 0917-8770300
Davao: (082) 282 4479 / (082) 282-1412 / 0917-894-1546 / 0917-860-6628
Cebu: (032) 266 2822 / (032) 236 6726 / 0917-865-7669 / 0917-825-7669
Baguio: (074)661-6064 / 0917-860-6630
Inquiries