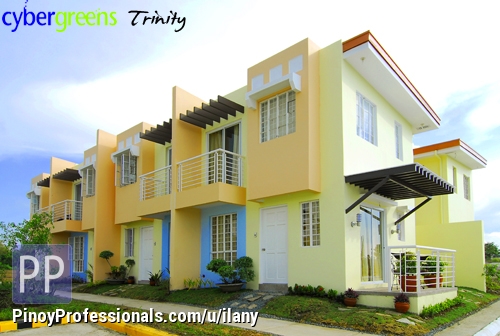 Description
Price:

₱

1,799,350


Size:

58 sqm


Bed:

2


Bath:

1


Location:

Dasmarinas, Cavite, Philippines
Foreclosed Townhouse for Sale RFO Ready For Occupancy in Dasma Cavite

CALL/VIBER/WhatsAPP/Messenger 0905 - 570 - 2523

Quadruplex Townhouse with own park and parking
Trinity Model is undoubtedly geared towards the young family. Unlike its little sister, this property has its designated family space. The gardened grounds are also larger, leaving room to romp for children-centered families.

Floor Area: 58
Lot Area: 52.50

Total Price: 1,799,350
Reservation: 10,000
18mons DP: 19,437.22

Balance for Bank Financing 1,439,480
15yrs: 13,756.42
20yrs: 12,040.39

CALL/VIBER/WhatsAPP/Messenger 0905 - 570 - 2523

Located along Malagasang Road inside Sunrise Hills Subdivision by Suntrust Properties Inc.

A modern garden community is fast rising at the outskirts of Gen. Trias, Cavite. Suntrust's Cybergreens Gen. Trias is a one-of-a-kind community in Cavite and the finest nature has to offer in a tranquil and calm environment that blends with the best technology available for an awesome socializing, communication and bonding with friends and family while enjoying a tremendous view and scent of a therapeutic garden. Wireless technology is clean and wholesome, so does the Cybergreens villa, where your children will surely appreciate the breath of fresh air and at the same time indulges to a world-wide web of entertaining experience.

The Cybergreens community is located along Pangalawa Road, Brgy. Santiago, Gen. Trias City, Cavite. This modern technological-themed community is also a garden inspired sanctuary in a unique integration that typifies the future of deluxe living albeit the project's low price tag. Yes, this community is highly affordable compared to other high-end projects of this type. The site is typically set in an oasis and a virtual paradise with wide open spaces, landscaped gardens for every cluster, with Internet access as the village is broadband-ready amidst an endless charm of beautiful gardens. The village has its own children's library and a science school and yet it is still near other prominent educational institutions, hospitals, public market, shopping and entertainment centers, cinemas, and other basic destinations.

Cybergreens Gen. Trias lies just a few kilometers from the town proper and just a few minutes away from Imus and Dasmari?as and other towns and cities of Cavite. The city is just 35km south of Manila and easily accessible via the Cavite Coastal Road through Aguinaldo Highway and Governor's Drive. The site brings you closer to every destination that may come your way in your pursuit for a better life for the family; the Cybergreens community is truly an impressive relief for a perpetual abode.


CYBERGREENS FOCUSES ON TWO IMPORTANT TWENTY-FIRST CENTURY THEMES

Looking at this real estate feature at a glance for the first time, the reader's eyes should be drawn to this project's intriguing title. Instantaneously, thoughts abound on twenty-first century concepts to do with greening the environment. But there is more to this residential complex's name, and it is, let's just say, a surprising development. In today's twenty first century times, it is also pleasingly welcome. So, what's in a name?


Going back to one's roots

Let this article start with that and explore why the developer chose to christen his property offering in lieu of two very important twenty-first century themes. To highlight the fact, the two themes being explored in these notes are that of wide open spaces that complement aesthetically and esthetically the purposeful habit of contributing towards greening the environment, and giving residents their interconnectivity as far and wide as possible.

It is not being taken for granted, but in today's environment, no-one can afford to be remote from the World Wide Web.


About the developer

For some time now, on a global scale, there have been strong arguments that it was only the affluent among communities that had an acute awareness of the need to reduce the world's carbon footprint in both commercial and domestic settings. The argument went further, suggesting that poorer to low to middle income families were never going to be in a similar position to be able to make their own positive contributions.

But when you look at Suntrust's own contribution and track record, this seems further from the truth than suspected. From the outset Suntrust's target market in the Philippines have been those citizens that have been pegged to the lower to middle income brackets. Across Dasmarinas, the developer's objective has also been to create residential complexes that allow its residents to be as self-sustaining as possible.


Greening the environment

In order to make a successful commitment towards greening the local environment, there has to be the local space to do this. Suntrust has used its condominium projects to make available amenable space both indoors and outdoors. This does not mean, however, that property units are acres large. What it does mean is that there is the ability to be as resourceful as possible with as little space as possible. This, in itself, is a sustainable development.

Also, fixtures and fittings installed to each house empowers residents to control the amount of power and water they use. Wide of the complex's christening, every opportunity has been given to investors and their families to better appreciate the ethos of having room to roam. From this, the shoots of a garden community has sprung. To enable the concept to commune as close to nature as humanly possible, while the children can also enjoy healthy outdoor space to romp, landscaping projects have built botanical, flower and rock gardens for residents to enjoy.


Focus on interconnectivity

Whether central to congested urban settings or located in suburbia, one important essential for residents and business communities is to have as wide a spectrum to free-flowing and uninterrupted access to the WWW. To achieve this objective, it is usually the case that internet users have to connect in a central space to enjoy free internet access. But at Cybergreens, this is not entirely necessary. Convenient Wi-Fi access can be enjoyed within the home.

Not only that, laptop and smart mobile users do not need to restrict themselves and can continue to enjoy their direct access to the net whilst enjoying their great outdoors, whether in the gardens of their own property or throughout the neighborhood. In fact, the entire neighborhood has been wired to be tech savvy. Residents are gifted with implanted lines that allow them ready use of broadband, cable and telephone use.


Twin developments they are not

If the reader views online slides at a quick glance, he or she may not notice much that is different from the themed condo units, Trinity and Simone. After all, both separate property concepts do have two bedrooms and a balcony on its top floors. But, of course, there are differences. Let us explore these briefly.
Location Map
Inquiries
More House for Sale in these Cavite Cities
Didn't find what you're looking for? Checkout more House for Sale in these Cavite locations. You can also post your own House for Sale listings for free and reach millions of Filipino professionals worldwide.