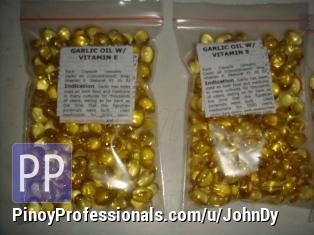 Description
Price:

₱

340


Condition:

New


Warranty:

Yes


Phone:

639195272603


Location:

NATIONWIDE DELIVERY VIA COURIER
QC MAKATI CAVITE
Manila, Metro Manila, Philippines 1418
VERY EFFECTIVE & POTENT DEWORMER, ANTI BACTERIAL, ANTI FUNGAL AND ANTI TICKS & FLEAS
GARLIC OIL W/ VITAMIN E
PRICE: Php 340 per 200 pcs./pack
Garlic has been used as both food and medicine in many cultures for thousands of years, dating as far back as the time that the Egyptian pyramids were built. Used medicinally for 5000 years, garlic has many well-researched effects.
They are rich in bioavailable Sulphur, Oil and B Vitamins. It has been used for centuries for its anthelmintic properties and other health benefits.
Pure Garlic Oil are the easy and traditional way to help your dog maintain a healthy resistance to internal parasites and a healthy immune system. It is an antibacterial, antifungal, antiviral and anti-inflammatory. Garlic boosts immune function, garlic helps digestion and garlic has also been shown to have anti-cancer effects. Garlic reduces cholesterol, blood pressure, blood clotting, and garlic limits free radical damage.
It is a useful remedy for dog owners who prefer to treat their pets without prescription medication. Garlic is a natural antibiotic and is often effective in curing mild ear infections in dogs, especially for its incredible anti-parasitic and anti-septic properties. It has also benefited pets with cancer, diabetes, liver, heart and kidney disease.
-Is used as a treatment for intestinal worms and other intestinal parasites, both orally and as an anal suppository.
-"kills worms, purges the head, helps lethargy, is a good preservative against and remedy for any plague, and takes away skin spots.
– Boost testosterone levels.
– POTENT PREVENTIVE MEDICINE.
–Potent antibacterial & anti- parasitic.
- Also considered as a natural penicillin because of its antibiotic properties. -Strengthens their immune system and reduces the effect of allergens.
- Garlic is a powerful detoxifier with the ability to neutralize toxins from the digestive tract, the large intestine, and the blood.
- Garlic is also helpful in regulating the action of the liver and gallbladder, is helpful in cases of intestinal infections, parasite infestations, and for problems due to putrefactive intestinal bacteria. – Mini storehouse of minerals.
- Garlic oil works well for both fungal and bacterial infections. – Helps with poor digestion, infection, regulates circulation, cardiovascular disease, respiratory problems, bronchitis, asthma, colds/flu, kidney problems, urinary tract, ear ache, & skin problems
GOOD FOR HEDGEHOGS, SUGAR GLIDERS, EXOTIC ANIMALS, DOGS, CATS, ALBS, KEETS, GAME FOWLS, ETC.
NATIONWIDE DELIVERY VIA COURIER
PAYMENT THRU BDO BANK ACCOUNT DEPOSIT OR MONEY TRANSFER
Text me at 09195272603 for your ordersOR CALL 02-2591611
TEXT FOR FASTER TRANSACTION
NEW STOCKS EVERY MONTH
Inquiries
More Health and Beauty in these Metro Manila Cities
Didn't find what you're looking for? Checkout more Health and Beauty in these Metro Manila locations. You can also post your own Health and Beauty listings for free and reach millions of Filipino professionals worldwide.