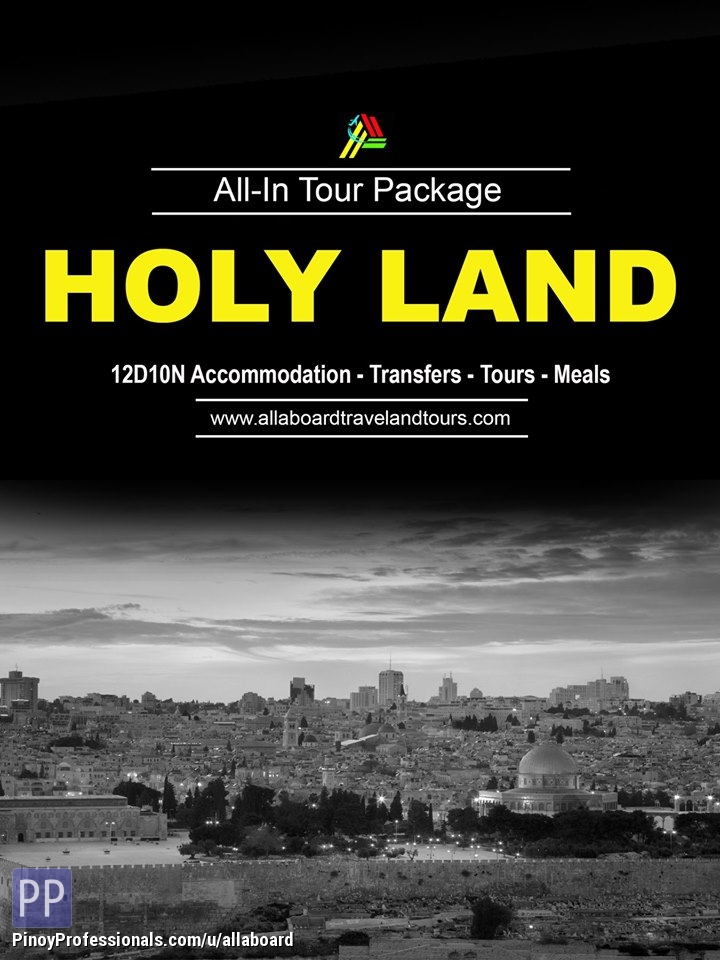 Description
Price:

₱

150,888


Website:

https://www.allaboardtravelandtours.com


Phone:

4017717


Location:

Florante St. Plainview
Mandaluyong City, Metro Manila, Philippines 1550
Holy Land All-In Tour
(Min. of 2 pax)
RATE: PHP150,888.00 per person based on twin sharing
Travel Date: Sep 18 and Oct 23, 2019
ACCOMMODATION:
AMMAN: Corp Amman Hotel
TIBERIAS: Leonardo Club Hotel
JERUSALEM: Grand Court Hotel
BETHLEHEM: St. Gabriel Hotel
MT. SINAI: Morgenland Hotel
CAIRO: Le Meridien Pyramids Hotel
FLIGHT DETAILS
EK335 MNL 2310 DXB 0425
EK901 DXB 0800 AMM 0940
EK924 CAI 1920 DXB 0050
EK332 DXB 0350 MNL 1600
WHAT'S INCLUDED
• Round Trip International Airfare via Emirates Airlines
• 10 Nights Hotel Accommodation
• Meals as per Itinerary: 10B, 11L, 10D
• Transfer, Tours and Admission Fees as per Itinerary
• English Speaking Tour Guide
• 2 Bottles of water per person per day
• Gift Set from Holy Land
• Free Travel Insurance for 70 years old and below except infant
• Free Wi-fi connection in the bus only (subject to connectivity)
• Jordan Visa Fee
• Israel Visa Fee
WHAT'S NOT INCLUDED
• Airline Tax/F-Tax: USD120.00 (subject to change)
• Visa
• Philippine Travel Tax: PHP1,620.00
• Mandatory Tipping for Guide and Driver: USD10.00 per day
• Beverages during Meal
• Border Tax Israel: USD30.00 (subject to change)
• Border Tax Jordan: USD50.00 (subject to change)
• Egypt Visa Fee: USD25.00 (subject to change)
• Border Tax Jordan: USD50.00 (subject to change)
• Border Tax Israel: USD30.00 (subject to change)
• Border Tax Egypt: USD25.00 (subject to change)
VISA REQUIREMENT
• Scanned Copy of Passport with 6 months validity beyond intended stay
ITINERARY
DAY 01 MANILA DEPARTURE (No Meals)
Check in at the Airport 3 hours before departure time.
DAY 02 AMMAN/ MT. NEBO/ MADABA (L/D)
Upon arrival in Amman airport meet and greet our representative then proceed to Mt. Nebo, where Moses viewed the Promised Land before he died. Then proceed to Madaba to visit the Monastery of St.George, which host the unique mosaic Map of Egypt, Jordan and Holyland. The map is believed to be the first one for this area, as it is built in the 6th century. Dinner and Overnight.
DAY 03 AMMAN/ PETRA/ AMMAN (B/L/D)
After breakfast inside the hotel proceed to the lost city of Petra with Horseback Ride through the picturesque SIQ, and visit the Treasury. Petra is a Greek word which means Stone. This city was built on 6th century, the home of Nabataeans. The site is a UNESCO World Heritage since 1985 and the most visited tourist attraction in the country. Transfer back to Amman in the afternoon. Dinner and overnight.
DAY 04 AMMAN- BORDER CROSSING TO ISRAEL- NAZARETH-TIBERIAS, ISRAEL (B/L/D)
After breakfast inside the hotel and check out. Transfer to Sheik Hussein Bridge or Allenby Border for crossing into Israel. After the inspections, other regulatory procedures and meeting our representative you'll continue to Nazareth the city of Jesus' childhood and youth. Visit the Church of Annunciation where we can see the original cave where angel Gabriel announced to Mary that she would bear a child by the Holy Spirit. Also visit Joseph's workshop where Jesus spent most of his childhood days. Drive on to the village of Cana, where Jesus performed the Miracle of changing water into wine at the wedding ceremony. Continue to the Western shore of the sea to Tiberias for check in. Tiberias is the city where Jesus Christ performed several miracles. Dinner and overnight.
DAY 05 SEA OF GALILEE-TIBERIAS, ISRAEL (B/L/D)
After breakfast inside the hotel start the tour with Boatride on the Sea of Galilee then drive to Capernaum, the town where Jesus made His home after leaving Nazareth. View the remains of the ancient Synagogue in which He taught, and on to Tabgha, where the Miracle of the Multiplication of Loaves and Fishes took place. Drive to Mount of Beatitudes, this is the site of the Sermon on the Mount and St. Peter's Primary Church, See the remains of St. Peter's House, then to Mt. Tabor to see the Basilica of Transfiguration. Visit Yardenit (Jordan River) where St. John the Baptist baptized Jesus Christ. Many Christian pilgrims stop at this site and perform baptism ceremonies. The site is located at the Southern exit of Sea of Galilee. Dinner and overnight.
DAY 06 TIBERIAS- HAIFA- JAFFA- JERUSALEM, ISRAEL (B/L/D)
After breakfast inside the hotel and check out. Travel to Haifa, visit the Basilica of Mt. Carmel, visit Caesarea, which was built by Mt. Herod the Great to catch the sight of the Aqueducts and the Roman Theater. This is where St. Paul was imprisoned. Proceed to Jaffa and visit the city where Yona set sail on. Drive to Ein Karem for St. John the Baptist Church and Church of Visitation where the Blessed Virgin Mary visited Elizabeth then to Jerusalem for hotel check in. Dinner and overnight.
DAY 07 JERUSALEM, ISRAEL (B/L/D)
After breakfast, your full day tour will start at Mount of Olives to visit the Ascension Chapel. Then to Church of Pater Noster to witness the "Lord's Prayer" Proceed to the Church of Dominus Flevit where God wept over Jerusalem. Continue by walking down to the Palm Sunday Road going to the Church of All Nations and the Garden of Gethsemane to see the Rock of Agony, the place where Jesus prayed before the Roman soldiers came for Him. You will be visiting St. Anne's Church, Bethsaida Pool, Wailing Wall, Via Dolorosa and go through the Stations of the Cross to the Holy Sepulcher where Jesus was crucified, died and rose from the dead. We'll visit Mt. Zion, the Upper room, David's Tomb and the Dormition Abbey. Dinner and overnight.
DAY 08 BETHLEHEM (B/L/D)
After breakfast and check out, proceed to Bethlehem. Visit the Basilica and Grotto of the Nativity and the Manger Square. And visit Lazarus Tomb and Shepherd's Field. Then pass to the oldest city in the world, Jericho, for a visit of Mount of Temptation (by cable car) and Sycamore Tree. Transfer to Bethlehem for hotel check-in, dinner and overnight.
DAY 09 BETHLEHEM-DEAD SEA-QUMRAN- TABA BORDER- ST. CATHERINE- MT. SANAI, CAIRO (B/L/D)
After breakfast inside the hotel and check out. Proceed to Qumran, the caves of the Essences where Dead Sea Scrolls where found by a wandering shepherd boy. Next, you'll visit the Dead Sea, this is not only the lowest point on earth, but it's water in which you can float and famous also for healing properties. Then transfer to Border in Taba Egypt and after customs and immigration formalities, you will meet our representative to take you at St. Catherine in Mt. Sanai for your overnight stay and dinner.
DAY 10 MT. SINAI- CAIRO, EGYPT (B/L/D)
Early Morning Mountain climbs to Mt. Sinai (OPTIONAL), where the Ten Commandments were given to Moses. On return, we will have hotel breakfast and check out. Visit St. Catherine Monastery then proceeds to Cairo. It is the capital of Egypt and largest city in the Arab world. You will see Moses Springs and Suez Canal. Dinner and overnight at hotel in Cairo.
DAY 11 CAIRO, EGYPT (B/L/D)
After breakfast inside the hotel, visit Egyptian Museum, where you can see the finest displays of Artifacts, Relics, Statues and Jewelries from all of the Pharaohs Reigns. Proceed to see one of the Wonders of the World, the Pyramids of Giza and Sphinx. You will also visit Church of the Virgin Mary, St. George Coptic Church, St. Sergis Church, and Citadel. In the evening, you will have Dinner Cruise at Nile River with Belly Dancing Show before returning to the hotel for overnight stay.
DAY 12 CAIRO- DEPARTURE (B/L)
After breakfast inside the hotel enjoy your free time for last minute shopping at Papyrus Factory, Cotton Shop and Perfume Factory as part of their Tourism Market. After lunch transfer to Cairo Airport for your flight back to Manila.
BOOKING CONDITIONS
• Minimum of 25 adults must travel together
• Non-Refundable Deposit of USD200 is required upon booking
• Rate and itinerary are subject to change without prior notice
• Rate is valid for PHILIPPINE PASSPORT HOLDERS only
• Surcharge will apply for foreign passport holders
• Charges shall be applied for any booking cancellation
Telephone Nos.:
+632-4017717 / +63-9177399135
Website:
https://www.allaboardtravelandtours.com
Facebook:
https://www.facebook.com/allaboardtandt
Email:
inquiry@allaboardtravelandtours.com
Twitter:
https://twitter.com/@allaboardtt
Pinterest
www.pinterest.com/allaboardtravelandtours
Instagram:
https://www.instagram.com/allaboardtravelandtours
Linkedin:
https://www.linkedin.com/in/allaboardtravelandtours
Thank you very much.
Video
Inquiries
More Vacation Packages in these Metro Manila Cities
Didn't find what you're looking for? Checkout more Vacation Packages in these Metro Manila locations. You can also post your own Vacation Packages listings for free and reach millions of Filipino professionals worldwide.